Despite tremendous progress in upgrading its portfolio and robust leasing figures, RPT Realty (NYSE:RPT) shares have performed poorly, falling over 10% thus far in 2023 and 22% over the past year.
Like its shopping center REIT peers, RPT is poised to benefit from a seemingly insatiable retailer demand coupled with a lack of new supply which are poised to drive rents, occupancy, NOI and dividends higher in the years to come.
At $9 per share, RPT trades at an implied cap rate over 9% and just 9x FFO which is a meaningful discount to shopping center peers and recent transactions. I estimate that shares have over 60% upside looking out 2-3 years.
RPT Overview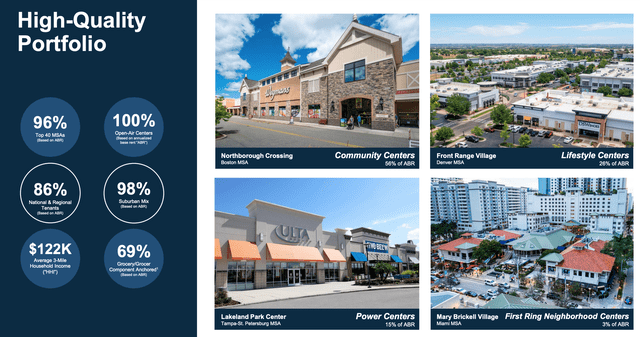 As shown above, RPT owns a high quality portfolio of shopping centers serving affluent communities. Through proactive leasing the company is increasing the percentage of centers with a grocery component – based on leases already signed management has indicated this will increase beyond 69% already signed new leases commence. Leading grocers and other daily needs (fitness/coffee) drive increased traffic to shopping centers which boosts the performance of neighboring tenants and allows RPT to charge higher rents.
Since 2018, RPT has divested some of its shopping centers lower growth midwestern markets like Illinois and Michigan and increased exposure to faster growing markets like Florida which benefits from outsize population growth. As we sit today, Florida represents 20% of NOI and should continue to increase going forward.
Leasing – Insatiable Demand for Space

As shown above 2022 was a fantastic leasing year for RPT. The whole shopping center space has been deluged by an overwhelming demand for space. Looking back, the pandemic seems to have served as a wash-out for the weakest retailers – the closure of retailers with unsustainable business models/over-leveraged balance sheets was dramatically accelerated (shopping center occupancy dipped into the high 80s for a couple of quarters). However, since 2020 we have witnessed a marked turn in the retail leasing environment as:
Most retailers have now right-sized their store footprint, and the era of mass store closures is over. This has led to an increased tenant renewal rate, which supports occupancy and rents.
Newer retailers, many of which are digitally native, have started opening stores. This recent podcast highlights the journey of one digitally native brand, which in a short period has grown to nearly 100 stores.
This was aided by a favorable backdrop as consumer spending surged following the pandemic era stimulus (as well as the spending of pent-up savings).
Perhaps most importantly, with most workers now spending only 2-4 days per week in the office, the demand for suburban consumer products and services has significantly increased (recently chronicled in the Wall St Journal). Retailers, restaurants, gyms and other service providers are opening locations at a faster pace to meet this additional demand.
In 2021, retailers opened more stores than they closed (for the first time in years) and this trend has continued through 2022 and into 2023. While the economic environment deteriorated throughout 2022, leasing activity has remained robust. The insatiable demand for space is exemplified by recent commentary of shopping center operators describing the retail/restaurant/fitness frenzy to occupy soon to be vacated Bed Bath & Beyond (BBBY) locations.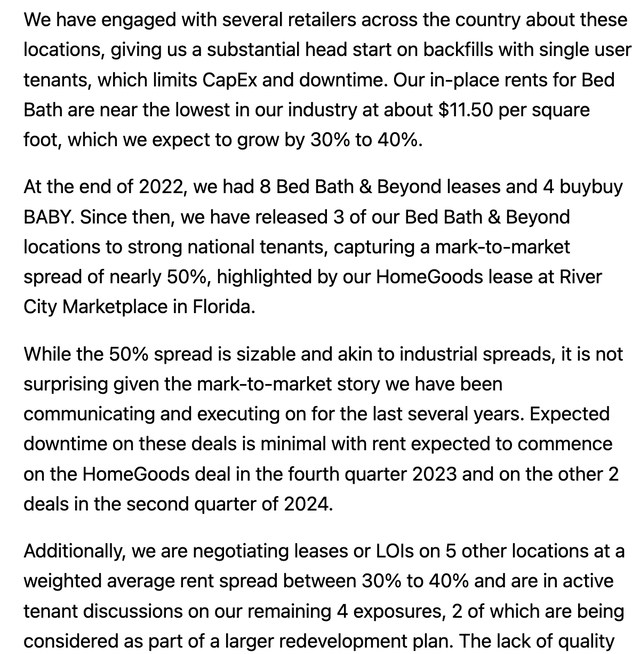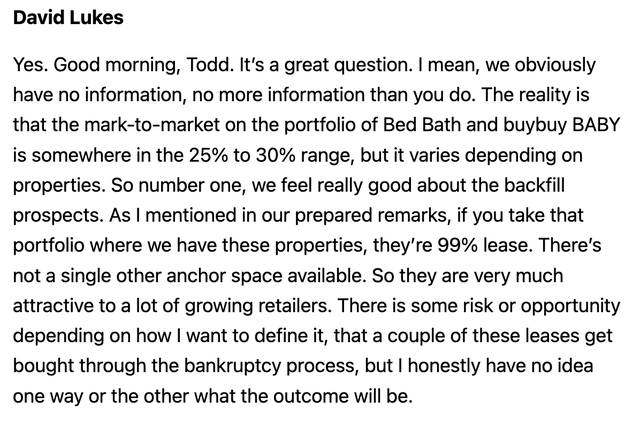 Not only have the shopping centers had no trouble finding tenants to take the space but leasing spreads are 25-50%! While it will take 12-18 months for new tenants to backfill the space,
Supply Outlook
Very little new shopping center space has been added over the past decade. From 2015-2020, elevated retail store closures/bankruptcies created a difficult environment for shopping centers. During this period, the retail apocalypse narrative intimated that e-commerce would destroy most bricks and mortar retailers. Elevated retail closures and a dour outlook disincentivized the development of new supply (as shown below).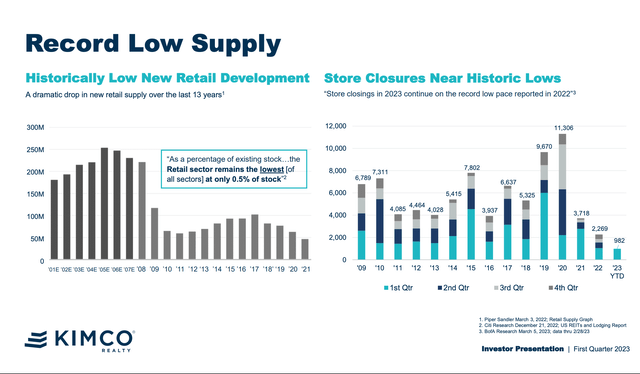 Of course, if you read the previous section on demand, you must be thinking 'Things are different now – it's time to get building!' There are several impediments to adding new supply, including:
Higher interest rates make development financing much more expensive
Recent bank failures have lead regional banks (who are the largest providers of development financing) to curtail new lending. Banks have become much more cautious about making new loans
The cost of construction has soared over the past few years. As we sit today, replacement cost is around double the implied current value of existing shopping centers (meaning rents would have to be much higher to justify the build- explained below)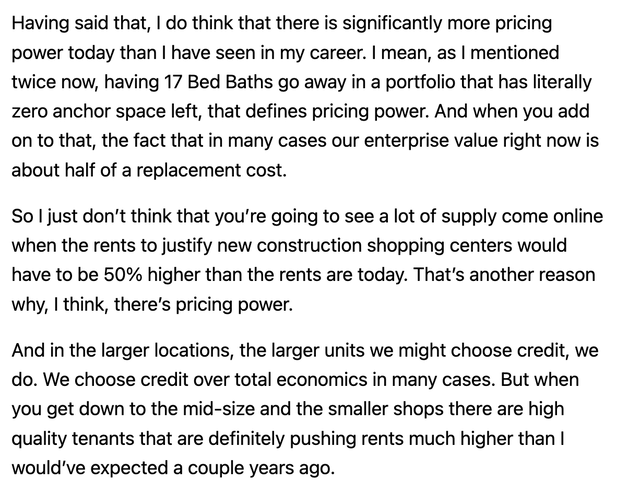 Safe to say we are unlikely to see meaningful amounts of new supply come to market.
Valuation & Conclusion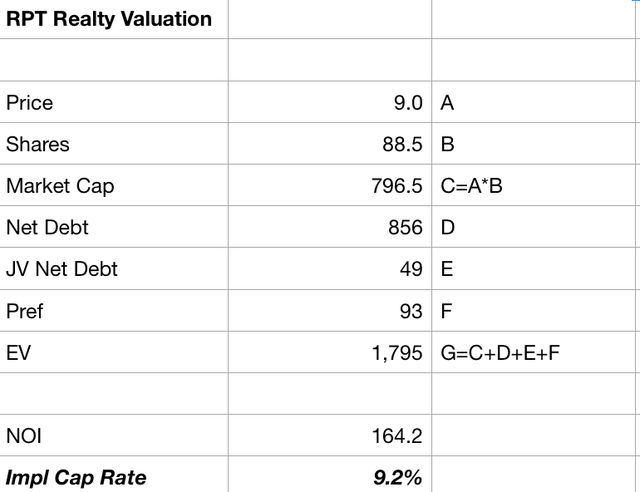 As shown above, RPT trades at an implied cap rate over 9% and a P/FFO of 9x and a dividend yield over 6%. Last week, Urstadt Biddle (UBP) agreed to be acquired by Regency (REG). At the agreed upon price, UBP is being sold at a 7.2% cap rate. There are puts and takes here but I think this is a reasonable comparable for RPT. Assuming a 7.2% cap rate, RPT shares would be worth $15 per share, 65% more than its current price.
With a high quality portfolio of grocery anchored shopping center assets, favorable long term supply and demand trends, a solid and improving balance sheet, and a deeply discounted valuation, I view RPT as a very attractive investment and have added shares to my portfolio.